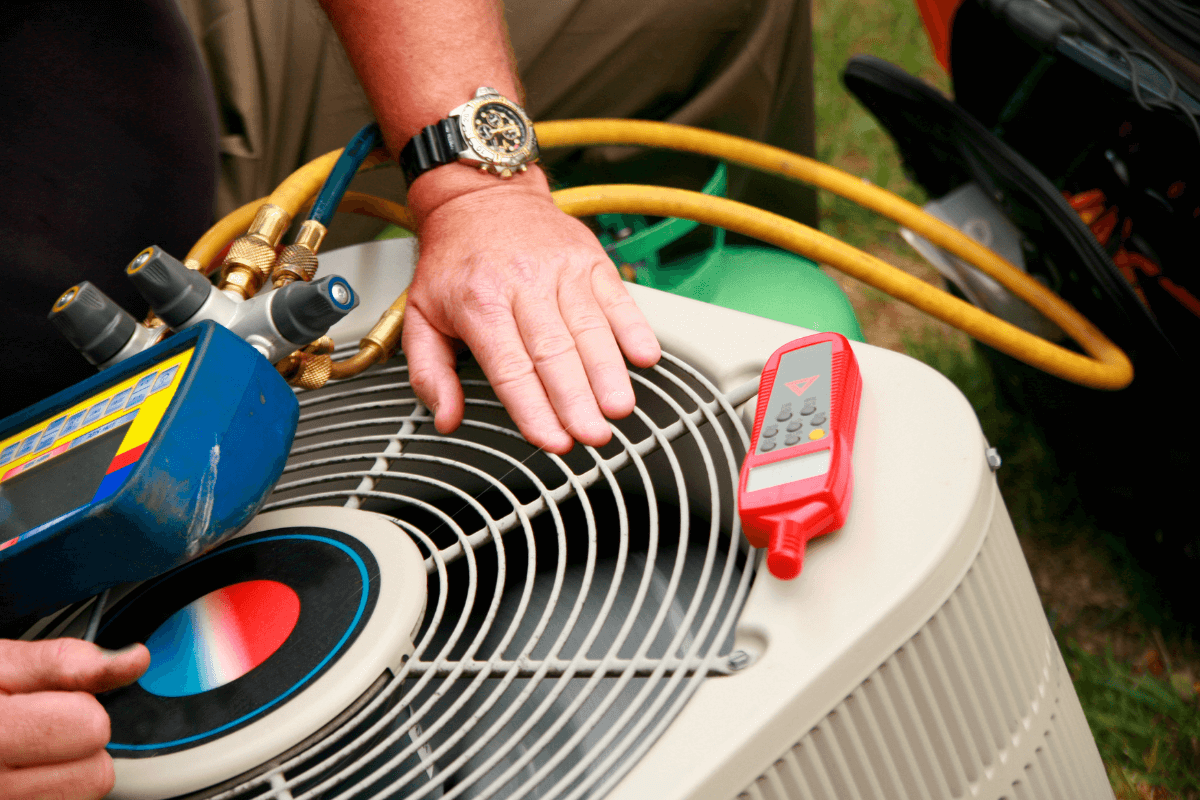 Your home should be an air-conditioned haven from the intense heat of Phoenix's Valley of the Sun. This means choosing a quality air conditioning product such as Trane, Carrier, Day & Night. Goodman, York, that can sufficiently cool your entire house, in addition to regularly servicing your system. It is also wise to have a reliable HVAC company to repair your residential AC system if it breaks down during a heatwave.
Our Camelback Air Conditioning & Refrigeration team has been servicing residential HVAC systems in the greater Phoenix area for 30 years. Our experienced technicians are highly trained and certified and on-call for air conditioning repairs 24/7/365. We're also available to perform regularly scheduled maintenance.
Call 480-525-8345 to Hire Our HVAC Pros
Common Air Conditioning Breakdown causes:
There are several reasons why your air conditioner system may stop working:
Your Air Conditioner is Running Too Much but Isn't Keeping Up with Cooling Needs
Obviously, your AC unit may run harder when the temperature and humidity levels are high outside. However, if it runs like this regularly, there may be a problem such as a dirty air filter or coils, low refrigerant levels, or a faulty condenser motor.
Your AC Unit is Short Cycling
If you notice that your AC system repeatedly starts and stops, you may have low refrigerant levels, a frozen evaporator coil, or an electrical issue.
Little Airflow from AC
If you have poor airflow and notice that your indoor temperatures are rising, it may be a sign that your fan motor, dirty filters, or coil may be having a problem.
Your AC Unit Completely Stops Running
If your unit stops running,  it may mean that something is wrong with its sensors or capacitors. Also, it may signal extreme problems with major parts like the compressor.
Notably High Utility Bills
If you notice that your monthly utility bills are exceptionally high, your unit may be running harder than it should. Be a sign that it is time for an AC inspection to identify the issue before it gets worse.
Noises that May Signal a Need for Residential Air Conditioning Repair
There are a few noises to be aware of, any of which means you should consult a professional for residential air conditioning repair services.
Grinding Noises in AC Unit
Grinding noises could indicate a mechanical issue or result from a loose or broken part. Fortunately, a professional can quickly identify and fix the problem.
Your AC Unit is Buzzing
Buzzing noises from your AC unit may mean that you have an electrical problem. Letting this go unaddressed could further damage your cooling system.
Hissing Noises from AC Unit
Hissing noises are often a sign of a refrigerant leak or an internal valve leak.
Maintenance of Your Residential Air Conditioning System is Essential
It is always best to maintain your AC unit twice a year before problems begin. Maintenance services extend the useful life of your unit and help to prevent costly repairs down the road. At Camelback Air Conditioning & Refrigeration, our trained technicians perform routine inspections and cleanings. If you are unsure when your unit's last time received servicing, it's time to schedule it!
Professional Residential AC Repair & Maintenance Services
There are several procedures that Camelback technicians will perform during routine residential AC maintenance:
Inspect Thermostat
Our technician will calibrate your unit and make sure it is away from any heat sources.
Tighten Electrical Connections
Our HVAC technician will check all electrical connections so that they are safe. Loose items will be tightened so that any hazards are avoided.
Lubricate Parts in HVAC Unit
One of our team will lubricate the moving parts in your AC unit to help prevent breakdowns.
Clean Condensate Drain Line
We'll clean your air conditioner's condensate line so that it can drain properly. Cleaning this part helps to eliminate mold and bacteria. If cracks in the drain pan are detected, it will be repaired or replaced.
Clean/Change Air Filter
Lastly, we'll replace your filter with a new, clean one. Having a clean filter in place is a simple way to keep your AC unit working properly.
Reasons to Work with Camelback Air Conditioning & Refrigeration for Residential Air Conditioning Service
At Camelback Air Conditioning & Refrigeration, we have three decades of experience repairing and servicing residential air conditioning systems. We understand the importance of taking preventative measures with your HVAC system so that we can identify minor problems before they cause trouble. Also, performing regular cleanings and inspections will elongate the life of your air conditioning unit.
When we identify issues, our skilled technicians get to work quickly so that your Chandler home remains comfortable. If you are having a problem, there is no time to wait.
To schedule an appointment for repairs or maintenance, call us at 480-525-8345.